Hurricane Anchor for Wood Frame Double Top Connection to Truss/Rafter
THE REVOLUTIONARY ROOF TRUSS TIE-DOWN SOLUTION
Product code: BHBDP
Burmon Hurricane Anchor (Canadian Patent Application No. 2956685) is specifically designed to tie down roof trusses to wall frames for Canadian Building Systems and is fully certified and tested for use in accordance with the 2012 International Residential Code (IRC) and 2012 International Building Code.
The revolutionary Burmon design enables the anchor to be securely fixed directly to the top plate. Using a cordless impact driver, simply attach the bracket to the top plate using Burmon panhead screws. The truss is then placed inside the bracket and fixed using Burmon roofing screws. This finishes the tie down of the trusses eliminating the hassle of going back later to nail off connectors. The Hurricane Anchor is faster and easier to install than ordinary conventional connectors whilst delivering a stronger tie down over the whole roof.


Code Compliant - 2012 International Residential Code (IRC) & 2012 International Building Code
Designed and engineered to resist 96% of all global high wind events
Anchors can be fixed to top plate whilst on the ground first, making it safer and faster when working at heights
No toe nailing required
No hand nailing required
Stronger, faster connection
Anchors hold trusses in position making bracing easier and safer
DOWNLOADS
Burmon Hurricane Anchor Double Top Plate (CA)
SPECIFICATION
STEEL
Gauge: 18
Corrosion Finish: G90

SCREWS
Burmon screws comply to 1000 hours Salt Spray Testing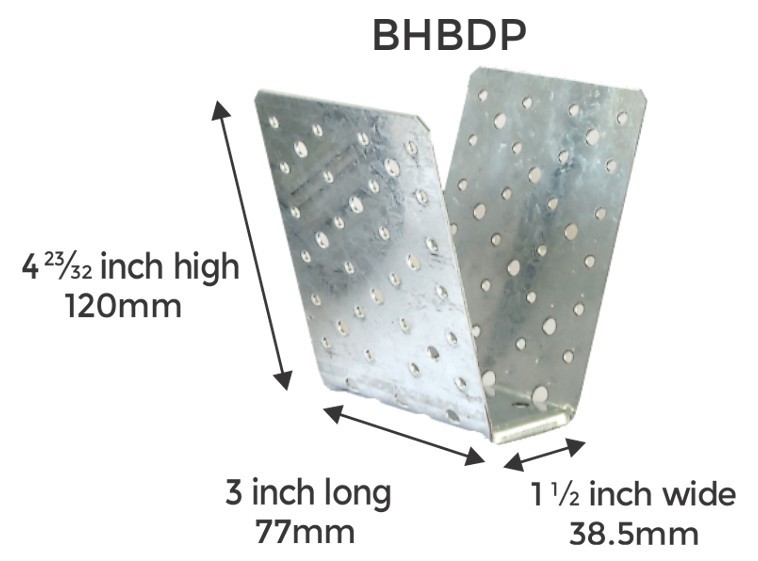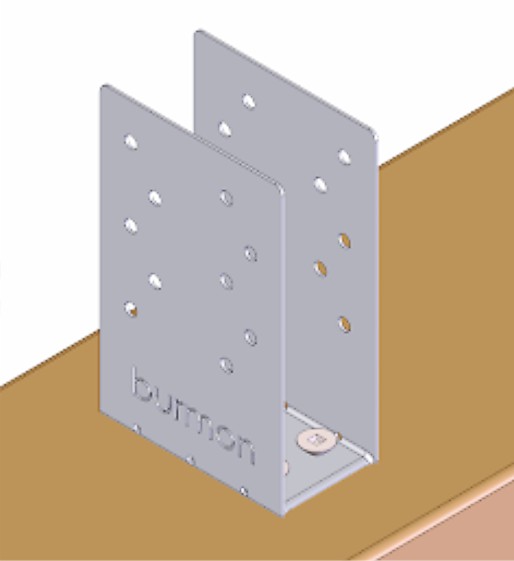 To achieve twice the capacities for Burmon Anchors, use two anchors fixed one in front of the other on a minimum 6 inch wide top plate.
Minimum quantity of fasteners to be installed. Product has additional screw holes not needed to meet published allowable load of product.
To view code report, please visit our page here or visit the code evaluation agency's website.
FASTENER SCHEDULE

Installation type

Limit State Design
DF/SP
Factored resistance (KD = 1.15)

Limit State Design
S-P-F
Factored resistance (KD = 1.15)

Corrosion Finish

Truss/Rafter

Double Plate

Burmon Stock No.
Ref No.
Steel Gauge
Qty
Type Burmon Screws
Qty
Type Burmon Screws
One Anchor
Uplift

160%
Lateral
F1
160%
Lateral
F2
160%
Uplift

160%
Lateral
F1
160%
Lateral
F2
160%
Galvanising

BHBDP

BHB

18

6
3 each side

BHH39

4

BSD65

k

/N

9.4

5.3

4.3

6.6

3.7

3.03

G90

lbs

2112

1203

971

1484

846

682

BHBDP

BHB

18

8
4 each side

BHH39

6

BSD65

k

/N

14.1

8.03

6.4

9.9

5.6

4.5

G90

lbs

3169

1806

1457

2225

1268

1023