Hurricane Anchor for ICF Concrete Connection to Truss/Rafter

USING BURMON ICF HURRICANE ANCHOR GIVES YOU THE ADVANTAGE
Product code: BHBCONICF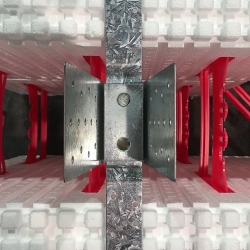 Burmon Hurricane Anchor (Canadian Patent Application No. 2956685) is specifically designed to tie down roof trusses to wall frames for Canadian Building Systems and is fully certified and tested for use in accordance with the 2012 International Residential Code (IRC) and 2012 International Building Code.
The ICF Hurricane Anchor has been especially designed for US conditions and modern ICF concrete building techniques to deliver safer, more efficient and higher load rafter/truss anchor connections that deliver significant cost savings over the total house build. Scaled over multiple projects, the benefits of using Burmon Hurricane Anchors are compelling.


Code Compliant - 2012 International Residential Code (IRC) & 2012 International Building Code
Designed and engineered to resist 96% of all global high wind events
No hand nailing required
Trusses screw fixed through nail plate
Hurricane Anchor fixed into place over ICF Wall
Significant cost savings to the total house build
Stronger, faster connection
Anchors hold trusses in position making bracing easier and safer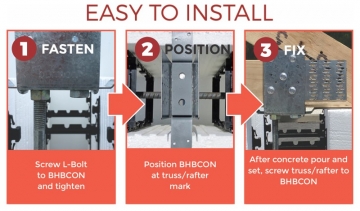 DOWNLOADS
Burmon_Hurricane_Anchor_ICF_Block_CA.pdf
SPECIFICATION
STEEL
Gauge: 18
Corrosion Finish:
Bracket G90
Threaded washerMild steel
L-BoltAlloy Steel, HDG
SCREWS

Burmon screws comply to 1000 hours Salt Spray Testing
Limit State Design is based on anchorage to masonry/uncracked concrete.
Minimum specified masonry or concrete compressive strength f'm 1500 psi and f'c is 2500 at 28 days respectively.
Minimum quantity of fasteners to be installed. Product has additional screw holes not needed to meet published Limit State Design of product.
Screw L-Bolt to threaded washer until bolt sits flush with threaded washer and tighten nut.
To view code report, please visit our page here or visit the code evaluation agency's website.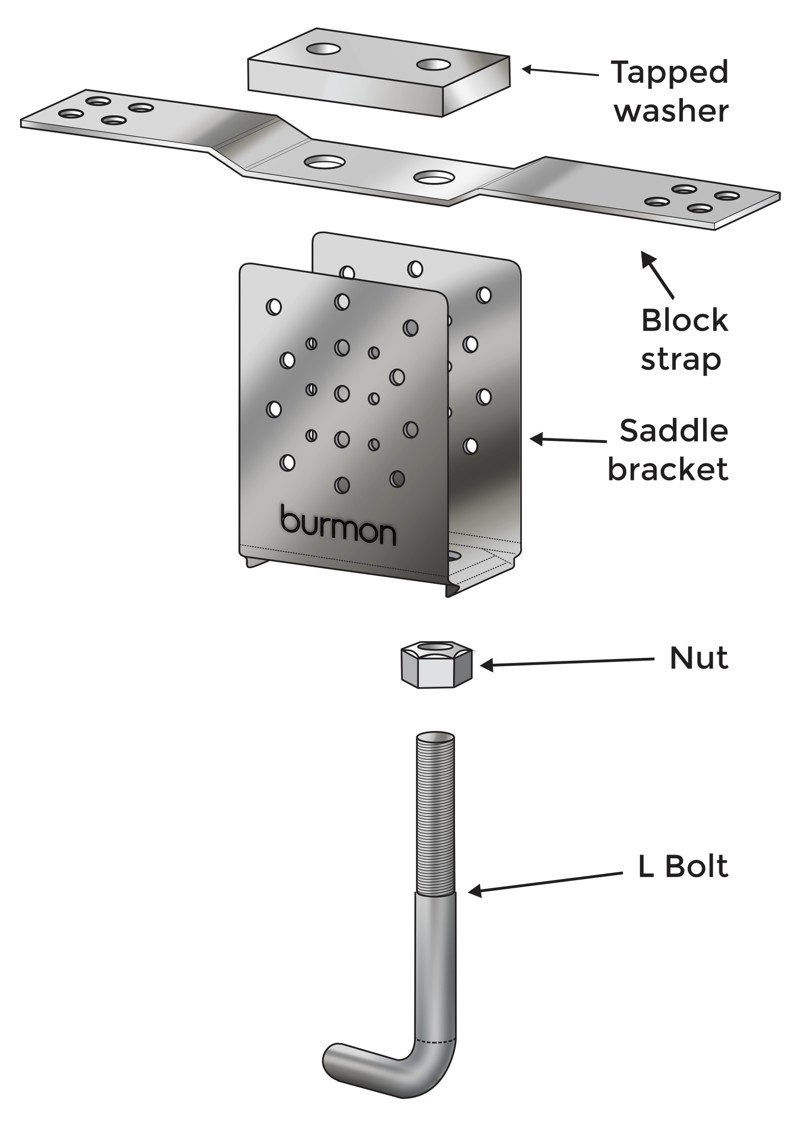 L-BOLT (embedded into concrete)

Fastener schedule

Limit State Design
DF/SP
Factored resistance (KD = 1.15)

Corrosion Finish

MASONRY
CONCRETE
MASONRY
CONCRETE
Burmon Stock No.
Ref No.
Steel Gauge
Burmon L-Bolt length (½ inch thickness)
Min Qty
Type Burmon Screws
Uplift
160%
Uplift
160%
F1
160%
F2
160%

L-Bolt: HDG

BHBCON

BHBCON

18

15¾
Alloy Steel, HDG

10
(5 each side)

BBH

4968

4968

3875

3875

Anchor: G90